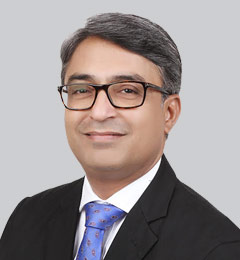 Sunil Deshmukh
---
Managing Director
Sunil Deshmukh is the Managing Director of Wilson Cables. He is responsible for setting the overall strategy and direction for growth at Wilson Cables. His experience of working in MNC environments across diverse geographies and understanding of the manufacturing industry helps drive the company's key future initiatives.
Sunil leads the infrastructure vertical and new business initiatives at the group. He has over 30 years of experience in the industry and has seeded and built new and successful enterprises from the ground up. He has served in various roles ranging from general management, business development, manufacturing facility management, financial management and human resource development.
In his previous roles, Sunil has held senior leadership positions with Indo-Jordan Chemicals and other reputed MNCs. He has worked across consumer markets in Africa, Asia and Middle East. Working with top global enterprises in diverse cultures and geographies has given him an edge in creating winning solutions for multi-dimensional business complexities.
Sunil is a qualified Management Accountant with certifications from USA and India. He is a Fellow Member of the Institute of Company Secretaries of India (FCS). He has also completed an Advanced Management and Leadership Program from Said Business School, University of Oxford, UK.