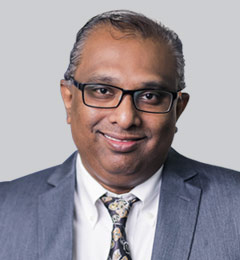 S Ramachandran
---
General Manager (Finance, HR & Commercial)
S. Ramachandran is the General Manager (Finance, HR and Commercial) at Wilson Cables. In addition to overseeing the entire accounting and fiscal reporting function, he is responsible for building and nurturing a strong team of talented professionals within the firm.
Rama has more than 20 years of experience in financial management, corporate taxation & internal controls. He specialises in management and cost accounting. Additionally, he has about 10 years of experience in human resource management & administration. He also has vast experience in banking & corporate secretarial matters.
Previously, Rama was the Head of Finance in one of the largest Singapore GLCs, Keppel Singmarine (a subsidiary of Keppel Offshore Marine Group). In addition, he has held senior management positions in MNCs, SMEs & NGO.
Rama is a Chartered Accountant of Singapore, an ACCA affiliate, an Accredited Tax Practitioner (Income tax) of Singapore. He holds a professional degree from ACCA ( UK).